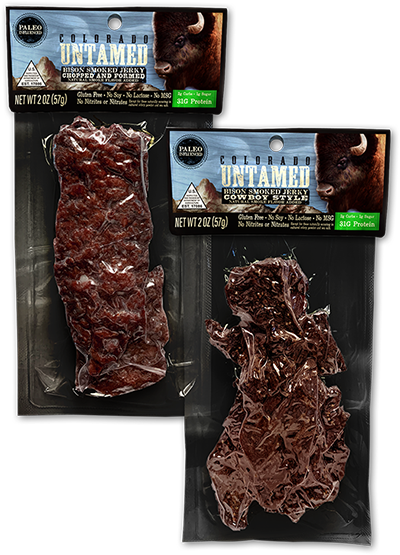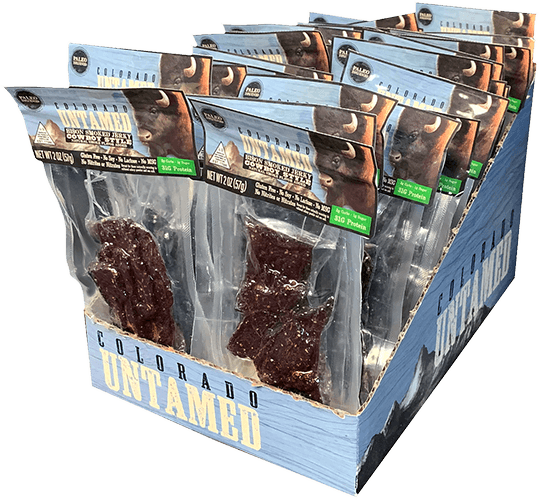 Jerky is the perfect snack
or mini-meal for anyone cutting carbs or just looking for that spark of energy healthy protein provides. Think jerky's just the stale stuff found near cash registers? Think again. Our delicious, all natural bison jerky is going to surprise and delight you.
We smoke our bison jerky to maximize the flavor, creating an unforgettable, savory taste. Our cowboy-style jerky comes in tender strips with just the right texture, perfect to sink your teeth into. We also offer bite-sized jerky chopped and formed from finely ground and shaped bison meat. It's like having the best of the Old West in the palm of your hand.
Nutritional Information


Retail Display Box
Item Description
Shelf Stable
Pack Type
Pack Wt
Packs Per Box
Avg Box Wt*
Shelf Life
Box Dimension LXWXH
Case Cube
Cowboy Style
VSP
2 oz
30
3.75
1 y
11.5 x 7.75 x 8.63
.44
Chopped and Formed
VSP
2 oz
30
3.75
1 y
11.5 x 7.75 x 8.63
.44
*All products are net weight unless specified.